3 "Old Mutual Partnership Awards" Trophies Made By Us
Theta Studios was proud to be part of Old Mutual's Partnership Awards (OMPA) to help recognize their partnerships and relationships with people and organizations involved in community based projects across Africa – projects that are changing and improving the conditions of their communities.
Nominations for the awards came from across the African continent: South Africa, Botswana, South Sudan, Ghana, Nigeria, Kenya, Namibia, Malawi and Zimbabwe.
We made these customized recognition awards for Old Mutual, representing partnership in the African continent. Based on their trophy design, we sculpted these three awards in different sizes to be given to the Partnership Award winner, the runners-up, and the adjudicators.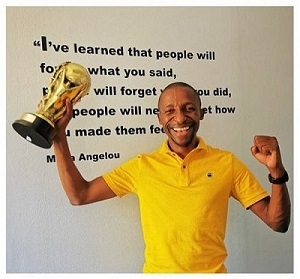 The award winner and recipient of the overall Partner of the Year trophy was Linkages for the Economic Advancement of the Disadvantaged (LEAD) from Zimbabwe.
The first and second runners-up to receive their respective trophies were non-profit organization Matla a Bana and the Imbumba Foundation (see image), both based in South Africa.
Their monetary prizes will be used for building on the excellent work each of these organizations already do.
The mini-trophies were given to each of the adjudicators in the awards process as a special acknowledgement award for their participation.
So for us, it was an honour to create these special trophies for the Old Mutual Partnership Awards, and to help recognize these winners that are doing so much for their communities.
---