"Madiba Magic" Nelson Mandela Sculpture for Sale (Limited Edition)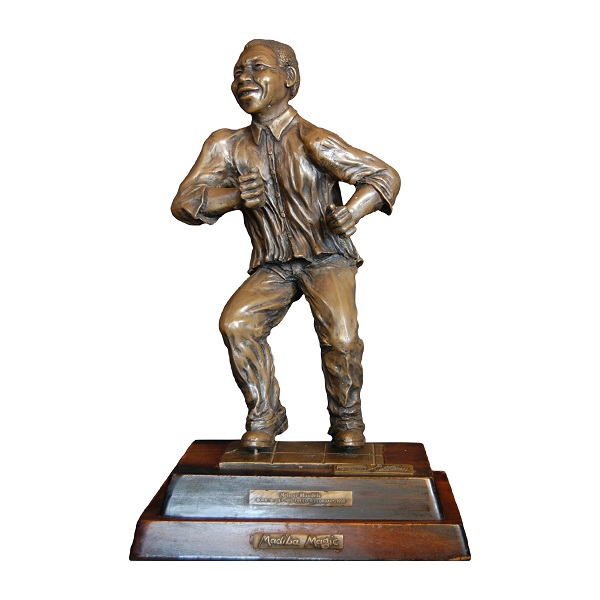 This sculpture was partly inspired by Nelson Mandela's work with children, his attitude towards our young achievers and the joy he expressed in their achievements. His dance, the "Madiba Jive", symbolized this joy, which itself was inspiring and is what communicates the "Madiba Magic" that he was so well known for.
The full limited edition of 50 pieces was endorsed and licensed by the Nelson Mandela Millennium Fund (as the Nelson Mandela 80th Birthday Company) in 1998 for Nelson Mandela's 80th birthday celebrations.
Of the 50 "Madiba Magic" Limited Edition pieces, 17 have been acquired including one by Nelson Mandela.
33 of the "Madiba Magic" limited editions remain to be sold
.
"Madiba Magic" Statue Description
Size:
57cm height x 36cm length x 27cm width
Statue Features:
the "Madiba Magic" sculpture is mounted on a varnished wooden base and includes two special plaques with the words: "Nelson Mandela BORN 18 JULY 1918 FREED 11 FEBRUARY 1990" and "Madiba Magic".
Proof of Authenticity: the "Madiba Magic" collector's art piece has an additional plaque with the limited edition number and the artist's signature to prove authenticity. You will also receive a certificate of authenticity that was signed by
South African artist Des Khoury
.
Once all 50 limited editions have been purchased the mould will be broken beyond repair.
Place an Order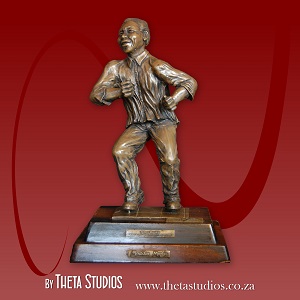 ADD TO CART
This is for order requests only. You do not make any payment at this stage.
Other Sculptures You Might Like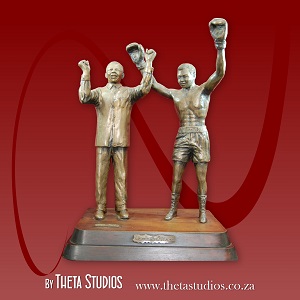 SIZE: 76cm height x 58cm length x 42cm width
WEIGHT: 23.0kg
FINISH: cold cast bronze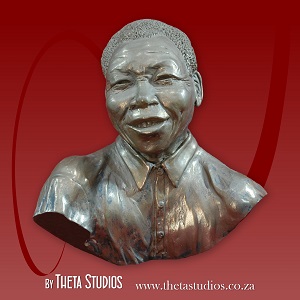 SIZE: 19cm height x 18cm length x 12cm width
WEIGHT: 1.9kg
FINISH: cold cast bronze
VIEW OUR COLLECTION OF SCULPTURES FOR SALE
Are you looking for a unique custom trophy or gift for a special occasion?
Want to know what we're up to? Receive our newsletter!